Countries where

has been invited to speak, consult, coach or train global leaders and teams
*Click on the images for more information
Helping Global Leaders & Teams Excel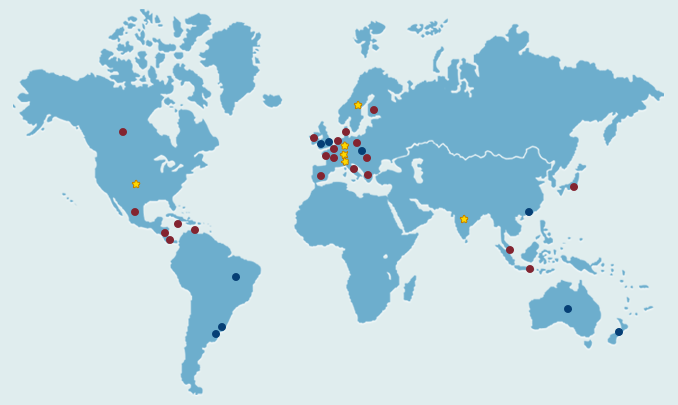 Close
Germany
Munich
Frankfurt
Ingolstadt
Close
Close
Close
Italy
Trieste
Col val D'elsa (near Sienna)
Milan
Close
Canada
Ottawa
Vancouver
British Columbia
St. Johns
Toronto
Close
Close
Close
Close
USA
Cities in which Dr. Araoz has trained, consulted or been a speaker:
Denver, CO
New York, NY
Los Angeles, CA
San Francisco,CA
Santa Clara,CA
San Diego,CA
Wilmington, DE
Detroit, MI
Chicago, IL
Bloomington, IL
Atlanta, GA
Houston, TX
San Antonio ,TX
Dallas, TX
Kansas City, MO
Bentonville, AR
Memphis, TN
New Orleans, LA
Philadelphia, PA
Newark, NJ
Princeton, NJ
Hartford, CT
Portland, ME
Washington DC
Seattle, FL
Orlando, FL
Miami, FL
Green Bay, WI
Greenville, SC
Nashville, TN
Raleigh, NC
Little Rock, AR
Phoenix, AZ
Tempe, AZ
Cleveland, OH
Cedar Rapids, IA
Baltimore, MD
Santa Fe, NM
Nashua, NH
Phoenix, AZ
Pittsburg, PA
Providence, RI
Newport, RI
Brattleboro, VT
Mohank, NY
Newburg, NY
*Click the locations and cities for more details

Countries for which

Dr. Zareen Karani Araoz

is recognized as having special in-depth cultural insights + experiences in cross-border management, and training & coaching managers, teams and leaders from this culture.
Additional countries for which

Dr. Zareen Karani Araoz

has experiences-coaching leaders, training and consulting, building cross-cultural teams, or as an invited conference speaker.
Other countries

Dr. Zareen Karani Araoz

has visited and has some familiarity with its management and team culture.

To contact Dr. Zareen Karani Araoz about the following please click here
Identifying Team Issues Across Borders
Support in any of these countries for Virtual or Cross-border Teams
Training/ Coaching of Team Leaders
Enhancing effectiveness of Collaboration Teams (M&As, J.V.s, Partnerships, Outsourcing ventures etc.)
Helping Resolve Team Conflicts & Challenges
and any other cross-cultural management services
Working Effetively with India/ Sweden/Germany etc.